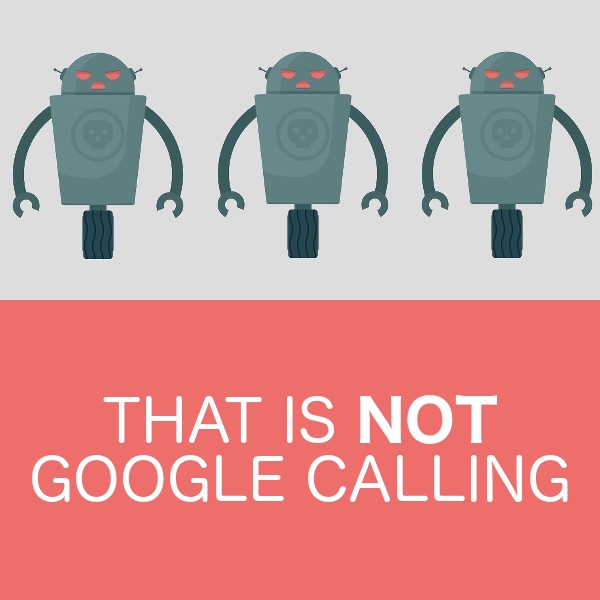 100% of these calls are a scam, and here is what you need to do…
Just hang up.
For no reason should you give any personal information, or hire the caller to help verify or claim your business listing.
The Google listing phone call is not coming from Google. Google does not call about listings.
Read on to get all the details about these scam calls, and how to actually verify and update your Google business listing.
But one last time, please understand — if anyone ever says they are calling you from Google they are LYING.
Sorry to harp on that point.
Even when we explain this to clients, by the end of the talk they are asking what to do the next time their "Google rep" calls. And we have to say, yet again, that person is not working for or with Google.
Not Google.
There will never be an emergency or an urgent problem with the way that search results show your business info. If you ever feel pressured when it comes to Google, it's a sign that someone is trying to con you.
With that out of the way, let's go over all the details you need to know about the Google My Business options.
Click any of the links below to jump to the most important topic for you right now.
And don't worry — this article is for small business owners. So there will be no confusing tech jargon.
Just simple explanations so you can protect yourself and understand how the local search directory works.
[et_bloom_inline optin_id="optin_4″]
What A Google Listing Phone Call Scam Sounds Like
It could be a robocall asking you to press 1 to verify, or press 7 to be removed from a list (you won't actually be removed).
Or it could be an actual person who is "alerting" you that you are not showing up on Google, or that there is a problem with your listing.
They might even say your listing is "scheduled for deletion" or "flagged for removal".
Finally, they could offer to sell you a "lifetime Google listing at a discount".
If you do not let them bamboozle you, and you ask some pressing questions, they will usually admit they are not Google, but may say they are "working with" Google.
They're not.
These calls happen so often, that the actual support team from Google had to release a public statement.
They gave a list of some things that they would NEVER do:
they don't charge for inclusion in Google My Business or in Google Search
they don't offer to improve your search ranking or manage your business's online profile
they don't ask you for your password or for a verification code
Any pressure or scare tactics you hear over the phone are meant to confuse you into taking action before you think it through.
What To Do If You Already Got The Google Phone Call & Are Paying For Help
First, don't worry too much.
These scammers are just trying to overcharge you for a simple service you could get for free, or that you could do yourself.
So the worst thing that happened is you just over-paid for the "help". You may even be on a monthly payment plan.
If you try to cancel, the phone rep could try to scare you by saying that your site will drop out of the Google search, or some other bad thing will happen.
It won't.
The first thing you should do is to remove their access from your page.
Go here: https://www.google.com/business/
You may already be signed in on your computer. If not, you'll need the email tied to your Google Account, as well as the password of your Google account.
Here are the instructions to remove a manager from your Google listing:
https://support.google.com/business/answer/3403100?hl=en
Once you have removed any control this scammer may have, you can stop paying them.
If they have you on recurring billing and will not stop it, call your credit card company to explain the situation.
What Is A "Google Partner"?
To further protect you, it helps to know some terms.
There is a title called "Google Partner".

This is a third party agency or marketer that took some basic online training and got a certification from Google.
All it really means is that the agency / marketer has at least an entry-level understanding of how Google services work. It does not guarantee you (the small business owner) any results.
So someone might call you and offer to help you show up higher in the search results for a specific phrase, or to run pay-per-click ads for you.
They might let you know they are a Google Partner.
As long as they don't claim to be working with or for Google, or promising specific results, you can just weigh their offer versus the cost like any other service.
We list some red flags for scammy SEO providers here.
View All Current Scams Involving Google
Here is an official list of all the scams done in the name of Google:
https://support.google.com/faqs/answer/2952493
This list is updated each time a new scam happens.
The robocalls we are discussing are under the heading "Google telemarketing calls", but it is a good idea to be familiar with all the other scams out there right now.
How To Stop Google From Calling Your Business
Lots of people ask us if they can make (Fake) Google stop calling.
So is there an easy way to fight back, or at least report these scammers?
It's not really worth your time.
Hanging up and ignoring them is the best option. Even when they give you the option to press a button to "be removed from the list", they will still call back.
Don't press any buttons when prompted!
But if you feel like you need to do more, here are some options:
1. Get on the Do Not Call list in Canada / USA
2. Report a violation to Google
Of course, you can also use an Electronic Call Blocker.
We'll link to some popular robocall blocking devices below:
> USA Call Blockers from Amazon.com <          > Canada Call Blockers from Amazon.ca <
Google My Business: What Is The Cost To Add, Claim, or Verify A Listing?
Free.
It costs nothing to make or modify a Google listing.
It does take a little time and patience, and a bit of know-how. Some business owners would rather just pay a pro to take care of it, to save themselves the energy.
Simply put, the Google My Business listing is an easy way to show up on search results, help people find you on a map, show all your contact details and hours, and feature your customer reviews.
It's very useful for mobile searches as well.
That's why we give FREE listing help to all our website clients. If you want to find out more, click here.
But if you want to learn how to manage the Google listing yourself, we've got the simple instructions for each step written below:
Add A Listing
Navigate to Google My Business.
New to Google My Business? Follow these steps to sign up for free
Search for your business using its name and address.
If you don't see your business listed in the menu, click No, these are not my businesses or I've correctly entered the business. You'll then be prompted to enter some details for your business. Make sure you enter an accurate, complete street address, and a phone number which reaches your business directly.
Click Submit.
Claim An Existing Listing
Navigate to Google My Business.
New to Google My Business? Follow these steps to sign up for free
Search for your business using its name and address. If your business is on the list, simply click it to continue.
If you see a dialog letting you know that someone else has verified the business, follow these steps.
You'll see the option to confirm that you're authorized to manage the business. If you are, check the box, then click Continue.
Read through all the info for your business to make sure it's 100% accurate and correct.
Verify A Listing
After you have added or claimed a listing, you must verify it. There are a few options:
Verify by phone (only select businesses)
If your business listing is eligible, you'll see the "Verify by phone" option when you request verification. If you don't see this option, request to verify your listing by postcard instead.
To verify your business listing by phone:
Choose the business you'd like to verify, then click Verify now.
Make sure that you can directly answer your business phone number to receive your verification code.
Click Verify by phone to have the code sent to your phone via automated message.
Enter the code from the message.
* notice how the only way to get Google to call you is by requesting it during this verification step!!!
Verify a business listing by postcard
To verify your business listing by postcard, enter your business address in Google My Business. You'll be sent a postcard with a verification code. Most postcards arrive within 12 days. Before you request to verify your listing by postcard, make sure that your business address complies with the address entry guidelines.
To request a postcard:
Choose the business you'd like to verify, then click Verify now.
On the postcard request screen, make sure that your address is displayed accurately. If it isn't, edit the address before you request your postcard. You can also add an Optional contact name to help your postcard reach you.
Click Send postcard.
Check the mail for your postcard. Most postcards arrive within 12 days. Don't edit your business name, address, or category, or request a new code while you're waiting—this may delay the verification process.
To enter the verification code:
Once you receive your postcard, sign in to Google My Business.
Click Verify location from the menu (or click the Verify now button).
Enter the 5-digit verification code from your postcard in the "Code" field.
Click Submit.
If your postcard is lost or missing, you can request a new one.
Once you have a listing, check out this article for some great ideas on how to optimize Google My Business.
Very Important — Pass This On To Your Friends
Now you know about the Google Listing Call Scam.
Please be a responsible member of your local business community, and tell other small companies about it.
Share this article on your Facebook or Twitter accounts, or email a link to friends that also run a business.
You could save them some money, and a whole bunch of stress and worry.
Think about it — it's impossible to follow every change in technology, especially when you are so busy. We just need to help each other and to follow clear and honest business practices. Then everybody wins.
Except the scammers… but, really, maybe even them, too. They'll be forced to get a real job.
[et_bloom_inline optin_id="optin_4″]
* As an Amazon Associate we earn from qualifying purchases.