Updated December 15th, 2016
There are plenty of ways you can leverage the web to promote your business.
This one doesn't require any money. And you won't have to become an expert to use it.
I'm talking about conducting a State Of The Union on your online presence.
It's something everyone should be doing at least a few times per year. But they're not. And it leads to a lot of miscommunication, consumer frustration, and even lost dollars.
This back-to-basics advice will fix that.
It applies to every situation:
Maybe you've got a great website, you're active on Facebook and Twitter, and you're running Google Adwords campaigns.
Or maybe you never bothered to get a website at all.
Doesn't matter — you can run through these simple steps to tune up your online image.
The biggest takeaway is to see your business as the world sees you, then adjust accordingly.
1. Google Yourself, See What The Internet Is Saying About You
Go to Google and type in your full operating name. While you're at it, also search for your posted business phone number and email (whatever contact info you make public).
Pay attention to what comes up on the first two pages of Google.
Some of the search engine results will be things you already control. Let's briefly focus on those.
If you have a website, do the pages show up with a relevant title and description?

Or do the results say something like "A description for this result is not available because of this site's robots.txt"?
If you see something that doesn't look right, make a note of it and send a message to your website provider.
Likewise for any other online accounts you have. It could be your personal page on LinkedIn, an ad you are running, whatever.
Make a note if you see anything weird, so you can go and fix it later.
Now… onto all the other results.
You're going to be looking at everything listed for your business on the net. The point is not to help with search engine optimization or anything like that. We are just going to focus on what is associated with your name.
What are the sources of this information?
Are they from the Yellow Pages website? Or is it a digitized version of a local newspaper that featured your business years ago?
Check it all out. Make sure the info is still relevant and accurate.
As above, if you see something that is not right, look for contact info on the sources. See if you can email or call them to remove the links.
On the flip side, maybe it is really positive coverage, and you'd like to obtain a copy for yourself.
At this point, one of the most important things you can look for are reviews.
Reviews can come from places like Yelp or the Better Business Bureau.
Let's first talk about negative reviews.
There are two kinds of negative reviews: fair and fake.
Some business owners just lose their minds over negative reviews. Why rage over something you can't control?
Instead, use it as an opportunity to re-build that bridge with the disgruntled client, and show potential new clients how much you care.
Most reviewing services also allow for the business owner to create a free account and respond.
Fair Negative Reviews
These are situations where genuine mistakes or miscommunications did happen.
I can't stress enough how important it is to be kind, genuine, and firm in your responses.
Kind: Negative reviews can be an outpouring of emotion from an angry client. Don't take it personally; always respond with measured and pleasant language.
Genuine: You know that person who is always "so, sooooo sorry" for all the mistakes they continually make? Don't be that person. Don't have a scripted line you always paste in for your reply. Calibrate your level of response for each new issue. And focus more on making things right, rather than being sorry.
Firm: Sometimes you fail to manage a client's expectations, and they take it as a deliberate slight. The net is a public forum, so you are not just responding to this situation. You are addressing all potential future situations as well. While you are being kind and genuine, you can still firmly outline the boundaries of your service.
Even if you feel that the reviewer should accept some responsibility for the situation, think of the bigger picture. There are a lot of times where you can take the high road, and protect future revenue.
One customer who is satisfied to get a little more out of you is less destructive than a scorned ex-customer who attacks your reputation with constant negative reviews.
Fake Reviews
Yes, it's true — sometimes competitors leave fake negative reviews for your business. Or sometimes the people we do business with are completely insane and dream up a horrible situation that never happened.
Best to laugh about it.
Then, with a level head, look for contacts on the review sites. Send them a well-reasoned message with as much detail as possible about why you believe the review is fake, and ask them what recourse you have.
I advise against demanding they remove it. You can ask if it's possible to remove it, or see what the steps are to do that.
But remember that since you are relatively powerless in this situation, demands just make you look silly (and incline others to believe that the reviewer was justified).
Most negative reviews will get removed.
For any type of online review, keep in mind that most readers are savvy. It's actually pretty easy to tell when a reviewer is honest.
Everyone gets a negative review every now and then, so any cluster of reviews tends to be judged on the middle ground between ecstatic and tragic.
People who rely on review sites will often discount the very worst reviews as well as the best reviews.
So if I see a business with ten reviews, one 5 star, two 0 stars, and the rest 4 stars, I get a generally good feeling. I'm paying attention to all those 4 star ratings.
Remember though… this ability to sniff out fake reviews also applies to positive ones.
So please don't review your own business. It's really noticeable and cheesy.
And if you are getting a friend or family member to give you a positive review, make sure they have actually used the product/service and can provide some specific details about it.
But we're getting a bit off track. This was about looking for things online that you were not aware of.
Sometimes you will find treasures…
Like a positive review.
Always copy-paste those positive reviews and keep them on file somewhere. You can use them as testimonials in future advertising.
You can also use them for market research, to determine what your target clients value most, and what sort of language they use to describe it.
In terms of responding to positive reviews, the advice varies.
Be congruent to your business image and know your customers.
Some people just love and feed off of constant communication, no matter how insignificant.
For me personally, when I read reviews and see a company rep commenting "thanks, we appreciate your business" after every one, I take it as a negative.
There's something creepy and robotic about it. It feels like HR hired an intern to type thank you notes all day. And to me this communicates wanting to appear caring, as opposed to actually caring.
But for some unique situations, it is very appropriate to respond to a positive review. Trust your gut.
Anyway, now that reviews are out of the way, we come to the most common form of external online link:
The directory.
2. Claim & Update Directory Listings
Directories are like virtual phonebooks.
The most famous one is the Yellow Pages. You don't even have to pay the Yellow Pages to be listed on their website.
A lot of directories use existing information (sometimes from elsewhere on the net) to populate their listings.
You've probably seen a few of them around: Canpages, 411, Yelp.
The problem with automatic listings is that the information gets outdated very quickly.
So people could be looking for you (or your service in your area), and find an old phone number or address. When they call and get no answer, they assume you are not trustworthy and they move on.
For other directories, you have to manually apply to be listed in them.
On our directory, Websites.ca, we only list businesses that have an active website. The way we see it, if users can go through the listing and visit the site directly, they'll always have the most up-to-date info.
So in this second step, you should be going through all of your online directory listings, claiming them, and making sure the contact info is up to date.
That usually means taking a minute to create a free account with each directory.
Then you can submit changes to your address, phone, email, hours, etc.
Sometimes directories want you to pay to claim the listing, or they hit you up for additional advertising.
I don't recommend this.
For now, just make sure your info is all on point.
When the internet was relatively new, SEO (search engine optimization) gurus advised signing up for every directory.
The idea was that you could put a link to your website.
And the more links you had coming in (called "backlinks" or "in-links"), the higher Google would rank you as a relevant source.
But it doesn't really work that way anymore.
Too many people abused the system and farmed a whole bunch of links coming from random places that had nothing to do with the service or product they provided.
So now, links from directory sites don't mean much in terms of better placement in the search results.
Still… they mean something. And if they carry incorrect info, then they are definitely hurting you.
As with everything else in this article, it's not about specific tactics to increase your traffic. It's about how you are communicating with and perceived by the market.
Be a good steward of information; keep your directory listings up to date.
If you have a website, you can create (or update) your business listing with our directory here: https://websites.ca/signup
Pro Tip:
One of the most overlooked aspects of directories is the category that is chosen for your business.
It acts as a keyword for searches, and may also be the method people use to browse the directory.
For example, if I need a plumber in Calgary, I'm not going to search for a specific company (because I don't know any yet). When I type "Calgary plumber" into Google, it will show me individual websites, but it will also show links to directories.
The directory results will take me to a page that lists all the plumbers in Calgary (that the directory is aware of).
Always check that your business appears in the correct category. If there is no exact match — which happens a lot — try to choose the closest one.
Some directories let you choose multiple categories. If that is an option, I suggest you choose as many categories as possible. Just make sure they are relevant for your business.
3. Add or Update Your "Google My Business" Page
"Google My Business" is sort of like a directory listing. It's tied to all the types of searches that people would do online.
In the past, it was called "Google Local", and then it was used alongside "Google+".
Now all the options for commercial enterprises are managed under the name My Business.
Google describes it as a way to "control how you appear on Google Search and Google Maps — for free."
So just like we've been talking about, it will show hours, address, phone, email, and reviews.
But even more important, it shows where you are on Google Maps.
You'd better check and see that the map marker is at the right location.
We have had a lot of clients calling us (thinking it was our mistake) when their business shows up on the map a block away from where they actually are.
As you can imagine, a lot of their customers were complaining.
If your business is showing up at the wrong place on Google Maps, you can easily fix it yourself.
Edit Marker Location on Google Maps
If you haven't already, you'll need to setup a free account with Google My Business.
Then you can follow these instructions: https://support.google.com/business/answer/160464?hl=en
The map editing page looks like this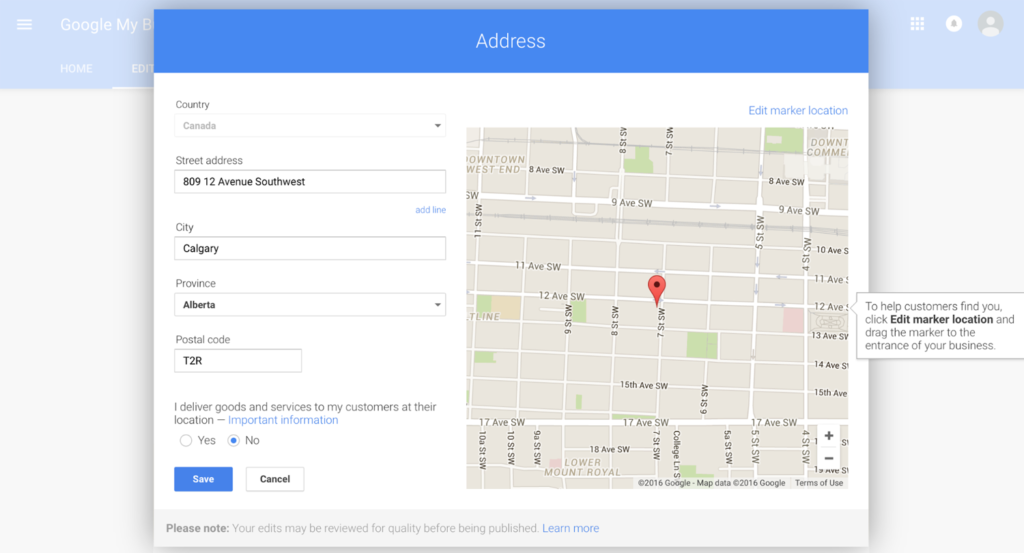 It's really easy to drag the marker where you need it to be.
Just don't panic if your change isn't reflected right away. It could take hours, or even a couple days, to update on Google.
For companies that don't have a physical store, it is still helpful to put in your mailing address, post office box, or even your home address.
Potential customers find it more trustworthy if they can see some tangible evidence that you exist off the web.
Google My Business lets you go beyond most directories, by adding in photos and virtual tours.
It also features very robust stats, so you can see how many views and clicks you are getting on your listing.
If, for some reason, you don't have a listing with Google My Business, get on there right away!
As a stand-alone strategy, it's the most important thing you can have on the web.
Warning: some scammers are pretending to be Google and asking companies to pay to "verify their listing". Read this if you have gotten a Google listing phone call.
It's also important to note that the latest Google updates are checking local search information from various sources.
That's why you must take care to do ALL of the steps from this article. Google is going to try to match your business details on their end with the other local listings and directories.
This may seem repetitive in the local space, but that's just because it's true. Even if you enter all the information exactly right in Google My Business, Google still doesn't trust it unless it can verify it against other sources. Use the free Check Listing Tool or any of the other online tools to make sure you're not only listed on all of the most important online sources, but that your information is accurate. And not just mostly accurate — so accurate that Google doesn't have any choice other than to completely trust your data. The one thing that will prevent Google from ever showing your business in their giant local search result is conflicting information about your business on various online sources.
from Moz's "Making Sense Of Google's Updates In Local Search"
Your Online State Of The Union Will Keep You Sharp
By now it's obvious what these steps will accomplish:
you find and correct errors of your own doing
you harvest impactful testimonials
jilted customers will be brought back into the fold
you get more exposure to all types of online users
you maximize your effect on Google
But there's an intangible benefit that I haven't mentioned yet.
This stock-taking of your online presence will act as an invaluable brainstorming session.
You'll start thinking about new ways to communicate your offers. You'll start seeing weaknesses that have gone under the radar because they've become habit.
You get a perspective from the outside in, like a client would.
This starts to bear fruit with development, marketing, and customer service.
Even more shocking is that you may see very little difference between yourself and your major competitors.
I mean, you know the difference.
But you'll see that it is not being communicated online.
And that just leaves the consumer's choice to chance.
Don't leave the consumer's choice to chance. Schedule an online State Of The Union at least twice a year, and go through the steps I've listed above.
It costs just a few minutes, and keeps you tuned up for success!